Postcards From Venice Italian Cocktail Box
45.00€
NIO-VENBOX
Key Ingredients:
421 Laguna

|
1104 Arsenale

|
2021 Cannaregio

|
1725 Le Calle Di Casanova
Why you'll love it
Four aromatic Italian cocktails featuring Select Aperitivo, a bitter-sweet liqueur.
NIO Cocktails has partnered with Select Aperitivo, an infamous and classic Italian liqueur distilled in the heart of Venice since 1920. Essential to Italian cocktail mixology, Select Aperitivo is both vibrant red and aromatic, cast as the lead role of  Postcards from Venice. 

NIO's Postcards from Venice is a collection of 4 limited edition cocktails, each crafted by Patrick Pistolesi, waltzing you on a tour through time in this iconic romantic city. Immerse yourself in Venetian culture as you sip, and discover the stories as each cocktail is a postcard from Patrick, to you.
If you can't be there in person, let NIO bring a little Venice to your doorstep:
421 Laguna: Select | Cocchi Vermouth Americano | 100ml | 13.6% ABV
1104 Arsenale: Select | Bonollo Italian Brandy | Cocchi Americano Bianco | Chazalettes Vermouth Di Torino Extra Dry | 100ml | 21.4% ABV
1725 Le Calli Di Casanova: Select | Bols Creme De Cacao | Organic Citric Acid | Liquid Sugar | 100ml | 11.1% ABV
2021 Cannaregio: Select | Italicus Rosolio Di Bergamotto | Pomme Roner Liqueur | Organic Citric Acid | Liquid Sugar | 100ml | 12.5% ABV
Inside Postcards With Venice
421 Laguna: The first stop on our tour of Venice: A cocktail to celebrate the origins of the city of Venice, said to be "founded" in 421 AD. We stand with Patrick looking out at the city skyline, standing just in front of iconic local distillery Pilla, crafting Select since 1920. You can feel the fresh breeze as you admire the canals which were once considered natural defensive moats during the fall of the Roman Empire. The first cocktail showcases the pure profile of Select, a careful balance between citrus and spice, pairing Select with vermouth, as we sip on 'Laguna'.
1104 Arsenale: Our second stop on our tour of Venice: We travel with Patrick via gonal through the canals to catch a glimpse of the impressive structure of Aresenale. Crafted in 1104, the architecture and stature of the vessel symbolises a time of economic and military power in the city. Inspired by the military giant, this cocktail draws apon strength and structure to craft a daring tipple of brandy, vermouth and Select.
1725 Le Calli Di Casanova: Moving through the hidden passageways between the canals of Venice, we walk with Patrick to our third stop on our tour of Venice. We listen to the fables told of politician, philosopher - and seducer - Giacomo Casanova. Chocolate being an infamous form of love and luxury, Patrick was inspired to craft a silky cocktail with notes of chocolate and citrus.
2021 Cannaregio: The last stop on our tour: Standing within the vibrant streets of Cannaregio, the atmosphere conjures a feeling of celebration. Perhaps the most experimental cocktail of the tasting tour, this is Patrick's wish for health, peace and beauty in the future. Crafted with apple, citrus and Select to make for a fun and vibrant finale in the form of a cocktail.
As you sip and savour, journey through the this 'virtual tour' of Venetian history and culture with Patrick by discovering the postcard detailed on the back of each cocktail.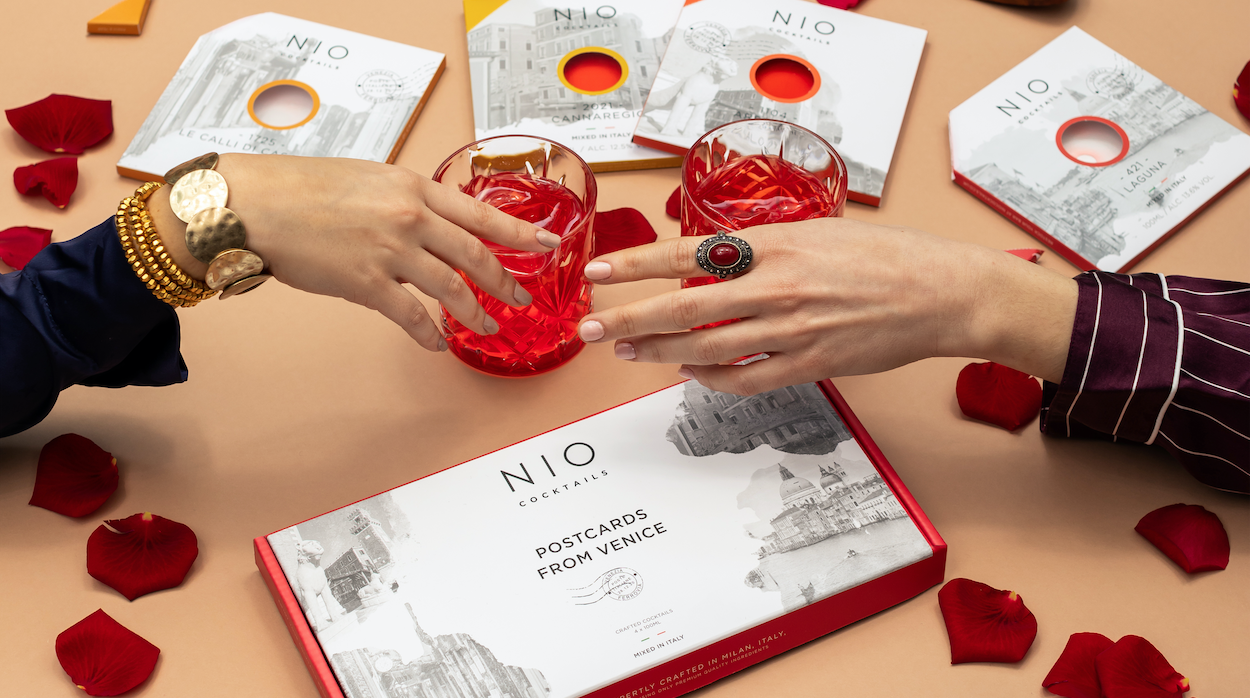 Select Aperitivo
Created in the Castello district of Venice at the Pilla Distilleries, Select is a red bitter aperitivo crafted with 30 different botanicals. With aromas of bitter orange, floral notes carry through to it's taste of strawberry and raspberry red fruits, orange citrus and a hint of lavender. Select is fruiter than Campari with a lighter finish, making for the perfect feature to our aperitivo tour of Venice.
Travel through the iconic city of Italy guided by Patrick Pistolesi, our head mixologist, with four cocktails each with a unique story that make up our Postcards from Venice collection box.
Postcards from Venice Box
has a rating of
4.7
stars based on
37
reviews.