Manhattan Premixed Cocktail
Spirits Business Pre-Mixed & RTD Masters - Masters Medal Winner
NIO-MH-3BOX
The warmth of Bulleit Bourbon Whiskey and sweetness of Cocchi Vermouth create a perfect cocktail.
Ingredients

Bulleit Bourbon Whiskey / Cocchi Storico Vermouth di Torino / Angostura Aromatic Bitter / Water / 100ml | 24.2% ABV

Taste

Recommended for

After Dinner

Awards

Pre Mixed RTD Masters Medal
FREE SHIPPING
Buy 6 or more of any cocktail and receive free standard shipping
Cocktail subscriptions
Have your cocktails delivered every 1, 2 or 3 months
NIO Rewards
Get VIP perks like reward points, member-only offers and more.
Why you'll love it
As one of the world's most popular classic cocktails, you just can't beat the warm, rich flavours of whiskey, the sweetness of Vermouth and the twist of bitters in our award-winning Manhattan. With an air of sophistication and class surrounding it, the Manhattan is the perfect after-dinner cocktail. Expertly mixed in Milan, Italy.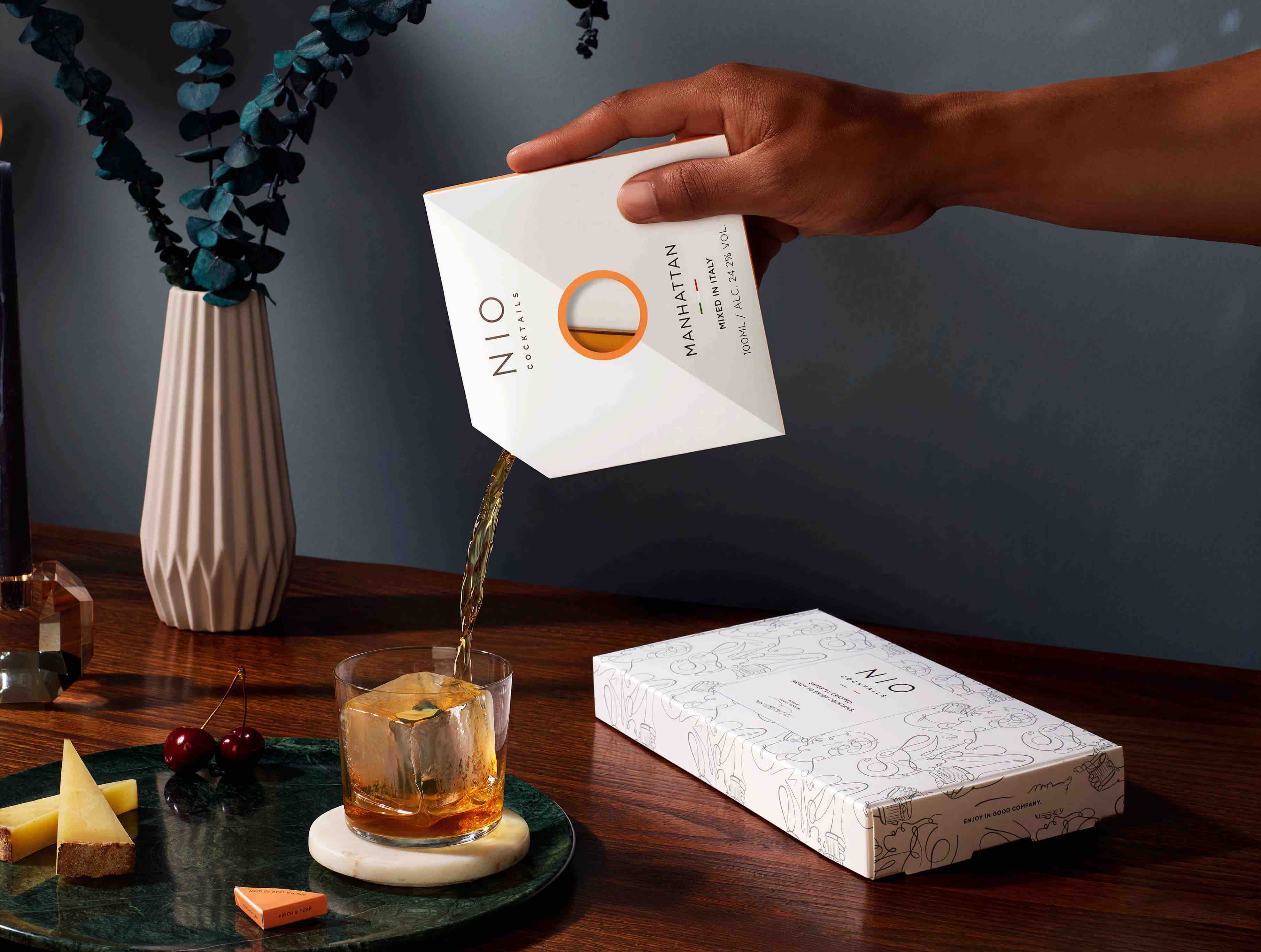 Manhattan History
The Manhattan has outlasted prohibition, survived countless trends, and is widely regarded as one of the greatest ever cocktails. If you believe the legend, it was first mixed in 1870 at a New York reception held by Jennie Jerome, the mother of Winston Churchill. The venue? The Manhattan Club, of course. Now you can find it on drinks lists around the world, and in your very own cocktail bar too.
Serve the perfect cocktail in one minute
Get your favourite tumbler glass
Once your glass has been filled with ice, give your cocktail pack a quick shake.
Tear off the corner
Simply pinch and tear the corner – no need to remove from the paper sleeve.
Pour over ice
Leave to stand for one minute and enjoy in good company.